About Us - The Coffy Network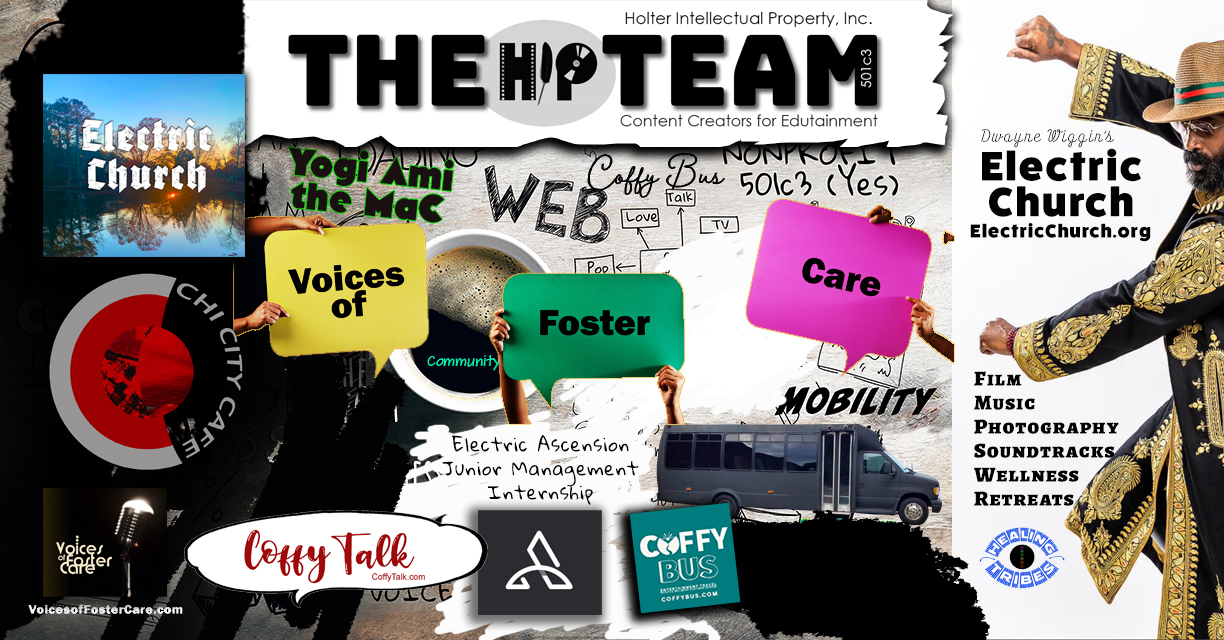 This network has been created in voluntary cooperation with The HIP Team, making great art while serving the community!
The HIP Team is Artist in Resident at ElectricChurch.org, where we run a successful internship and mentorship program for Dwayne Wiggins, of Tony! Toni! Tone'!
CoffyTalkRadio.com is the official website for our Coffy Talk Social podcasts, powered by LE Radio and enhanced by Coffy Box Productions and Coffy TV Videos. The Coffy Network was developed by the Georgia nonprofit organization Holter Intellectual Property, Inc. for the advancement of our communications initiatives. Here you can enjoy a variety of podcasts from members of The HIP Team. If you would like to share your content with our growing audience, please join the Coffy Talk Private Community at coffytalk.com and slide into the Coffy Talk Radio Circle.
Chief among HIP's communications programs is Voices of Foster Care. All money raised through the Coffy Talk network supports this unique opportunity for young people aging out of foster care to polish their public speaking skills and develop methods for self-healing, harm-reduction, and conflict resolutions through Yoga and Xi Gong. The youth will enjoy the great outdoors at Dwayne Wiggins' Electric Church and assist in the making of their own documentary and music score. This program will be directed by adult foster care survivors, writer, Jessica Holter, and Yogi Ami Brown. If you are an adult foster child in the Atlanta area who is interested in getting involved, please send a letter to info@hipinc.org.
We welcome your help. You can donate directly to the nonprofit at PayPal.me/hipinc.
IT TAKES A VILLAGE
The Coffy Network includes:
Coffy Talk Radio: A Podcast
Coffy TV: Our Video Website with Embedded YouTube and Coffy Video Exclusives
Coffy Talk: A Social Media and private community site for members and supporters.
Coffy Pop: Space and opportunity for community members to pop up with products and talents at special events, and retreats.
Coffy Bus: Our 24-Passenger Bus lives at Electric Church and will provide transportation to our art productions and wellness retreats.
ATL Bus Company: You can also learn to drive the bus!
Coffy Post: Will offer local news in Lovejoy, GA, and the surrounding area. Physical copies will be available at our actual coffee shop, Chi City Cafe!
Chi City Cafe is located in Lovejoy and will serve the community with Peet's Coffy, Live entertainment, and workforce development.
Coffy Books: We will begin our first writer's retreat in July at Electric Church and host regular lit-related meetings at Chi City Cafe.